Francis McPeake trial: Woman denies she made relationship up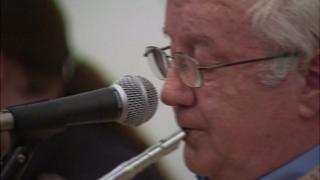 A woman who claims she had a sexual relationship with folk musician Francis McPeake when she was a teenager has denied in court that she made the whole thing up.
The woman told Belfast Crown Court she was 15 when she began a relationship with Mr McPeake, who was 67 at the time.
She said it was consensual and that she loved him.
Mr McPeake denies 12 charges of child sex abuse from June 2009 to May 2010.
The woman, who is now 20 and cannot be named for legal reasons, alleges a sexual relationship began during a music trip to the Republic of Ireland in the summer of 2009.
The court heard it ended when she broke it off after becoming sick of lying to her friends and family about her relationship with Mr McPeake.
During cross examination by Mr McPeake's lawyer, she repeatedly told the court she was in a relationship with him.
Each allegation she made was rejected by the musician's lawyer, who accused the woman of making the incidents up and of stalking his client.
The lawyer also accused the woman of "pretending you were in a fantasy relationship with him", to which she replied: "I was in a relationship with Francie. It wasn't a fantasy."
When the trial began on Monday, a defence lawyer told the jury that the issue in the case was not one of consent, but whether or not Mr McPeake had done the acts of which he was accused.
Since he attended a police station voluntarily in December 2012, Mr McPeake, formerly from Eliza Street Close, Belfast, has maintained his innocence.
In a prepared statement to police, Mr McPeake said "I have never done anything with this child."
He branded her allegations as "false, malicious and without foundation", claimed he and his family had suffered due to a "campaign of harassment" from her and her relatives since 2010, and added: "She is attempting to destroy my life."
The case continues.