Francis McPeake trial: Former friend of accused gives evidence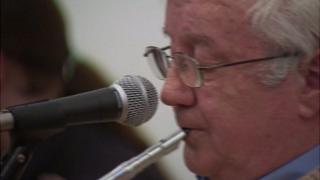 The trial of a Belfast musician has been hearing evidence from the former best friend of the girl with whom he is accused of having an underage sexual relationship.
The girl said her friend first told her about her alleged relationship with Francis McPeake after she saw them acting inappropriately at a workshop in 2009.
The witness said she was "shocked".
Mr McPeake, 72, denies 12 charges of child sex abuse.
The alleged abuse happened between June 2009 and May 2010.
The prosecution witness, who is now 20, told the court on Wednesday that after her friend had made the confession, she said she did not "believe it" and told her friend "it was mad".
She said the affair continued at a music event in the Republic of Ireland two months later.
The woman said she was in a minibus with her friend and Mr McPeake when her friend told him she thought she was pregnant.
She said the musician replied: "That can't be. It's not possible."
She added: "He then told me to get out of the bus."
During cross examination by the defence she said that on a day trip at Bangor seafront Mr McPeake kissed her friend on the lips.
She said it was also witnessed by some old ladies who were disgusted.
The case continues.