Sir Declan Morgan: Judge was disrespectful of senior colleagues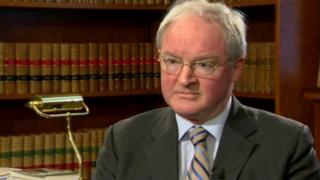 The Lord Chief Justice has written to a senior judge telling him he would have faced disciplinary action if he had not been ill.
Sir Declan Morgan was referring to evidence given to a Stormont Committee by County Court Judge Desmond Marrinan.
In November, Mr Marrinan informed the Justice Committee he had been unfairly denied a High Court appointment.
Sir Declan told the committee on Wednesday some of the evidence had been disrespectful to other senior judges.
Judge Marrinan told MLAs last year he had been the victim of "flawed, unfair and biased" treatment during the appointment process in 2009.
Giving evidence on Wednesday, Sir Declan Morgan confirmed that he had written to Judge Marrinan to tell him some of his evidence had been disrespectful to other senior judges, by making what the lord chief justice described as the "risible" suggestion that they lacked the independence to deal with an issue on its merits.
Sir Declan said he had not threatened Judge Marrinan with disciplinary action, but had told him, in the light of the fact the judge had been ill, he did not think it appropriate to take the matter any further.
'Intimidated'
Justice Committee Chairman Paul Givan read out a letter in which Judge Marrinan had complained he felt intimidated by the lord chief justice's letter and had to seek further medical treatment as a direct result of the correspondence.
Mr Girvan said Judge Marrinan was a witness who might be called upon to give further evidence to MLAs.
However, the lord chief justice insisted that it had not been inappropriate to write to the judge.
Sir Declan said he felt he had no option but to raise the matter.
He has previously maintained that the 2009 appointment should be scrutinised by a Westminster committee as it predated the devolution of justice in 2010.
The lord chief justice, however, did defend the handling of the appointment within the context of his evidence explaining policy concerning the appointment of judges.