NI health workers' pay: Problems largely resolved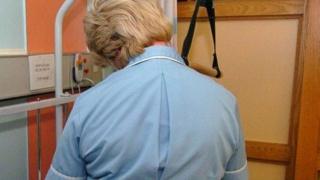 The debacle over payments to healthcare workers has now been largely resolved, the Department of Health has said.
However, it said some workers were still affected and it was "working hard to address these difficulties".
Departmental officials briefed the health committee on the current situation on Wednesday.
Many healthcare workers had been given the wrong tax codes, which had affected their pay, and a number of staff were on an emergency tax code.
The department said basic pay had been largely unaffected, but payments for over-time and working unsocial hours had been impacted.
Error
"Additional payment cycles" and emergency payments had been used to tackle this.
Staff who had additional national insurance contributions deducted from their salaries had now been repaid, according to Julie Thompson from the department.
Around 7,000 staff members had extra national insurance contributions taken out of their salaries, and around 5,000 staff had been affected by the error over tax codes.
David Bingham from the Business Services Organisation, which oversees payments, said most staff got their money back within three days.
He said he believed the amount of money involved totalled million of pounds.