Matt Baggott to face police ombudsman legal action questions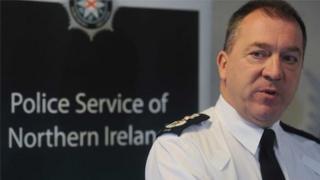 Chief Constable Matt Baggott is expected to face questions from the Policing Board later on the possibility of legal action against the PSNI.
Police Ombudsman Michael Maguire has said he is considering legal action to obtain sensitive intelligence material.
It relates to about 60 murders and other incidents where there are allegations of criminal behaviour or misconduct by officers.
The legal action by the police ombudsman is unprecedented.
The police have said they believe they have responded appropriately to each request for information.
Justice Minister David Ford has said he was hopeful the dispute would be resolved before it went to court.
Mr Maguire said he had no option but to take legal action because he had received more than 100 refusals for information.
He said the material was needed for his investigators to do their jobs.
Mr Maguire claimed the chief constable was making it impossible to investigate allegations of serious criminal activity and misconduct.
The PSNI said it was seeking to agree a solution with the ombudsman about what it called "complicated and, sometimes, competing legal issues".
When news of the legal action broke, the Policing Board said in a statement: "Police cooperation and the provision of information to the institutions with legislative responsibility for delivering independent oversight and accountability of the PSNI is critical.
"The application for leave for judicial review by the Police Ombudsman is very significant and a matter of great concern."