What's in the papers - local D Day coverage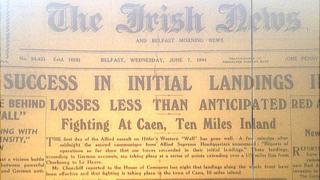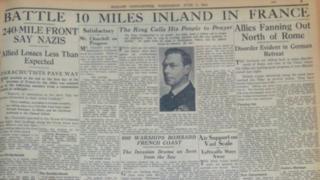 News travelled at slightly more of a snail's pace in the 1940s.
It would be on the morning after D Day that word of the landings appeared in Belfast's daily newspapers.
"Allies land in N. France," proclaimed the Belfast Telegraph on 7 June 1944, with a subheading that read: "Europe's greatest day successfully begun".
The Irish News' front page headline read: "Success in initial landings - Losses less than anticipated".
Back in the 1940s, the front page of the Belfast News Letter was about advertising.
Reports of D Day appeared on Page Five. But nevertheless, it still had huge impact.
Deputy editor Ben Lowry said its coverage of D-Day on 7 June 1945, the morning after the landings, described one of the most dramatic developments in the paper's 277-year history.
"The headline in that June 7 News Letter is significant: 'Battle 10 miles inland in France'. It is, in essence, revealing the beginning of the end of the war," he said.
"The headline must have been written on the evening at the close of D-Day, and yet readers were even, by that stage, able to hear of major progress into enemy-held territory during the first 12 hours of an immensely risky operation, after four years in which British forces had been unable to set foot in that country.
"Once the allies had such a firm foothold on the continent, they weren't going to be pushed back (although it would take almost another year of fighting before the Nazis surrendered)."
Mr Lowry said D Day coverage dominated a full page.
"It doesn't sound like much, but newspaper pages were much bigger then and had much more densely packed print, so that page gives about 7,000 words of detailed news on the operation.
"Readers presumably pored in fascination over every word," he said.
The previous News Letter, on D-Day itself, had a page of war coverage from around the world, but gave no clue of the impending invasion.
This is consistent with the utter secrecy ahead of D-Day, said Mr Lowry.
"There is a report on RAF planes heavily bombing the French coast but the censors would have approved that because it was consistent with their decoy of a pretended invasion closer to Calais," he said.