Peter Hain: Former NI secretary to stand down as MP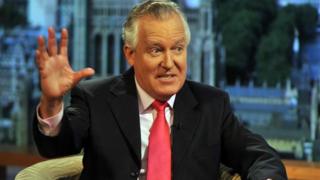 Former Northern Ireland secretary Peter Hain has announced he will stand down as a Labour MP at the general election.
The MP for Neath, in Wales, had been reselected by his local party and said he had been intending to run again next year.
However, Mr Hain, 64, who became an MP in 1991, said it was now time to bring his Commons career to a close.
He added that would "remain active in politics, campaigning for justice, freedom, equality and democracy".
'Best job'
He said: "After considerable thought and, in discussion with Ed Miliband, leader of the party and for many years my close colleague, I have decided to draw stumps on my House of Commons career."
He served as NI secretary between 2005 and 2007.
During his cabinet career, Mr Hain also had stints as work and pensions secretary, Welsh secretary and leader of the House of Commons.
In 2012, Mr Hain said his role in Northern Ireland was "probably the best job I did".
Later that same year, a contempt of court case was taken against Mr Hain by NI Attorney General John Larkin, over criticism of a judge made in his autobiography.
The case was dropped after Mr Hain clarified his remarks.
In recent months, he called for an end to Troubles-based prosecutions in the wake of the On The Run controversy.
'Integrity'
Labour leader Mr Miliband paid tribute to Mr Hain, describing him as a "political activist and campaigner".
"It goes without saying that his integrity, wisdom and firmness in speaking up for those least empowered to speak for themselves will all be sorely missed," he said.
"Whether on the backbenches, the front bench or in the cabinet he has served the Labour Party and the country tirelessly."
Mr Miliband added that he would miss his colleague's "personal friendship and humour on the green benches".