Belfast Harbour development gets planning permission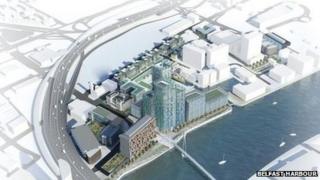 A major hotel and office development in Belfast Harbour has received planning permission.
The City Quays project, beside Clarendon Dock, will also include a residential development, restaurants and some small shops.
The site is 20 acres that Environment Minister Mark Durkan said has been underused for several years.
He granted planning despite concerns over the height of the development.
The original plans included a 30-storey building, but this was reduced to 16 storeys following objections.
However, the environment department's own historic buildings unit argued that this was still too tall.
Mr Durkan said: "I did take on board concerns about the potential impact of the development on the setting of two listed buildings, the Harbour Commissioners Office and the Sinclair Seaman's Church.
"I have concluded that on balance the regeneration potential of the development, coupled with the prospective economic benefits and associated job creation, outweighs these concerns."
The outline planning permission was welcomed by Graeme Johnston, Belfast Harbour's property director.
"City Quays is an extension of the highly successful Clarendon Dock development. The 20-acre development will regenerate a significant section of Belfast's waterfront and help reconnect the river frontage to the city centre." he said.
"Today's award of outline planning approval for the entire scheme will enable Belfast Harbour to progress more detailed plans and showcase the full City Quays project to potential investors."
Belfast Harbour had already received planning approval for one building on the City Quays site.
It is a five-storey office block known as CQ1, and building work has already started.