Memorial to three Scottish soldiers attacked in north Belfast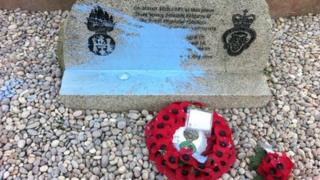 A memorial to three Scottish soldiers murdered by the IRA in north Belfast has been vandalised.
Paint was thrown over the memorial at White Brae on the Ligoniel Road. Police said they are treating it as a hate crime.
Jim Wright of the the Royal British Legion said it was the 10th time the memorial had been attacked in recent years.
He described those responsible as cowards.
"As determined as these faceless thugs are to destroy the memorial, we are doubly determined to ensure that it remains at this site as a reminder to those in the IRA who were responsible for luring three young boys to this spot and murdering them in cold blood," he said.
"It is a sad indictment that someone in our society thinks it is OK to desecrate a memorial. I would like to offer my thanks to those responsible for cleaning the memorial."
North Belfast Sinn Féin councillor Gerry McCabe said it was a "despicable act".
"I'm saddened to hear that the memorial at the White Brae at Ligoniel to the three soldiers has been defaced by mindless thugs," he said.
"The actions of those involved in this are not representative of the people of this community."