Gerry Kelly: MLAs to debate motion to exclude Sinn Féin MLA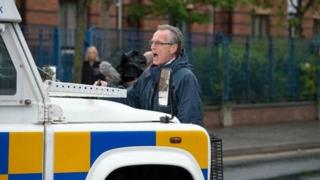 MLAs will debate next week a motion to exclude Sinn Féin's Gerry Kelly from the assembly for five days.
The sanction is being proposed by Stormont's Standards and Privileges Committee.
It is in response to an incident last year in which Mr Kelly was carried a distance clinging to the front of a police Land Rover.
The proposed exclusion was backed by unionist MLAs on the committee, but opposed by Sinn Féin MLAs.
Mr Kelly, a MLA in North Belfast, accepted a formal reprimand in January from police in relation to the incident.
A police officer was reprimanded for his part in the incident.
A month later, he announced he was dropping his lawsuit against the police over the incident in north Belfast.
It happened in Carrick Hill last June, following the loyalist Tour of the North parade.
At the time of the incident, the Sinn Féin MLA said he tried to stop the Land Rover in order to speak to officers who had arrested a 16-year-old boy, but he claimed the officer drove off with Mr Kelly clinging to the front of the PSNI vehicle.