Francis McPeake trial: Jury discharged in sex abuse case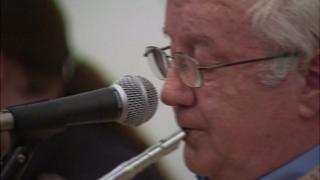 The jury in the trial of well known Irish traditional musician, Francis McPeake, has been discharged over a legal issue.
The 72-year-old, formerly of Eliza Street Close, Belfast faced 12 counts of child sex abuse.
He was accused of abusing a 15-year-old girl between 2009 and 2010. He denied all the charges.
The 12-member jury had spent more than six hours deliberating before being discharged on Wednesday.
The judge thanked the 10 women and two men for their time.
The trial at Belfast Crown Court started on 28 May.