Conor O'Neill, five, killed in road collision in Rosehead, north Belfast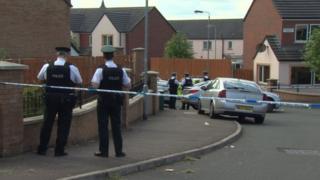 The five-year-old killed in a traffic collision in north Belfast has been named by police as Conor O'Neill.
He died after an incident involving one car and one bicycle in Rosehead, at about 09:00 BST on Wednesday.
The boy, who was a pupil at Holy Cross boys' primary school, was taken to hospital, but later died.
The school principal, Kevin McArevey, said: "The entire school community has been devastated by news of this awful tragedy."
Speaking earlier, he added: "The boy concerned was a lovely child. He had a radiant smile that could light up any room. This is an awful day for the family, friends, staff and children."
Mr McArevey, who ran to the scene of the collision about a quarter of a mile from the school, said everyone was in a state of shock.
The principal described what happened to the north Belfast boy.
"He was playing on his bike, as he normally would, before going to school," said Mr McArevey.
"His mum, I'm aware, was calling him in for school when the accident happened."
He said the school was putting support measures in place to help the children deal with the little boy's death.