Judgment reserved in Special Branch break-in award appeal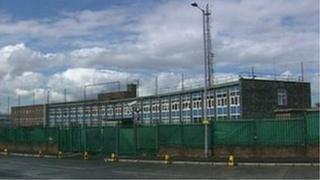 Judgment has been reserved in an appeal by a retired Special Branch officer whose details were stolen from a Belfast security base.
He has appealed against an award of damages of just over £20,000.
His details were stolen in a 2002 break-in at Castlereagh police station that was blamed on the IRA.
The veteran ex-constable challenged a ruling on the level of compensation based on the impact that the raid had on his mental health.
Infiltrated
Fighting the case without a lawyer, he argued that the Provisional IRA carried out the burglary as part of a plan to kill Special Branch officers, "their main enemy".
Liability has already been admitted in the negligence claim brought against the chief constable.
The former officer who brought the action can be identified only as CR19 for security reasons.
He had retired from the police more than a year before intruders infiltrated a Special Branch office at Castlereagh on St Patrick's Day 2002.
They escaped with sensitive files believed to have related to officers and their agents inside paramilitary ranks.
Millions of pounds was spent re-housing officers and others whose security was compromised by the raid.
Responsibility for the burglary, which rocked the peace process, was denied by the IRA at the time.
A number of legal actions against the chief constable claiming personal injury, financial loss or breach of data protection have already been settled.
But CR19's negligence claim continued in a dispute over the level of compensation to which he should be entitled.
'Plot to kill'
In December last year, a High Court judge held that he should be awarded a total of £22,400.
His decision was based on a medical expert's opinion that the former officer's psychiatric issues had worsened by up to 25% for six years after the burglary.
No award was made for either post-traumatic stress suffered during decades of service or a "heavy drinking macho culture" within Special Branch.
Mr Justice Horner said at the time: "No-one can begin to imagine the horrors he has to face and the demons that continue to haunt not only his dreams but his waking moments."
As his case came before three judges at the Court of Appeal in Belfast on Thursday, CR19 claimed events at Castlereagh were not a "break-in at a sweet shop" but part of a plot to kill.
Following submissions Lord Justice Girvan, sitting with Lord Justice Coghlin and Mr Justice O'Hara, confirmed judgment will be given at a later stage.