Newtownards Road shop owner stabbed after dog bite, court told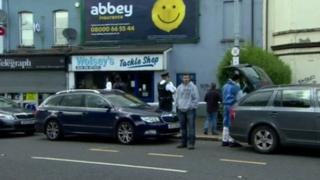 A man stabbed an east Belfast shop owner after being bitten by the victim's dog, a court has been told.
Raymond Allardyce, 49, of Finvoy Street, Belfast, has been charged with attempted murder over an alleged knife attack on Denis Wolsey, 66, on Tuesday.
Mr Wolsey was stabbed in the head and neck during the incident in his tackle shop on the Upper Newtownards Road.
A lawyer for the defendant said he had been bitten on the mouth as he tried to feed crisps to the dog.
Mr Allardyce, who is also charged with possessing an offensive weapon, was granted bail in the hearing at Belfast Magistrates' Court.
An investigating officer opposed the application for bail, and said there was a potential risk of intimidation to witnesses.
The court heard that Mr Wolsey is still in hospital and has not yet given a statement to police.
'Drinking binge'
However a defence lawyer said Mr Allardyce had expressed "sincere apologies for what happened" and that this was a "bizarre and unique" case.
He said that Mr Allardyce had been off alcohol while staying with his mother in Banbridge, County Down.
However, the court heard that he returned to Belfast on Friday, 6 June, and went on a four-day vodka, rum and beer binge.
Explaining the circumstances around the stabbing, the lawyer said: "He was attempting to give the owner's dog a crisp and it bit him.
"He had to be taken to hospital to have stitches in his lip.
"His animus was against the dog in this case, but we accept that he went back and attacked the dog's owner."
Granting bail, the judge ordered Mr Allardyce to live with his mother and imposed an alcohol ban.
She also banned him from contacting the victim or any witnesses.
After the judgement, the defence lawyer said: "He apologises for the incident and he accepts responsibility for it. The real issue at trial will be his state of intoxication."
Mr Allardyce is due back in court in six weeks.