Thousands attend UK Pipe Band Championships at Stormont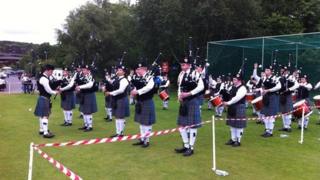 Thousands of people have attended the UK Pipe Band Championships which took place in the sports grounds of Stormont estate.
More than 100 bands from all over Ireland and Britain participated at the event.
The competition featured entertainment from a variety of drummers, pipers, highland dancers and drum majors.
Mervyn Herron of the Royal Scottish Pipe Band Association said the contest involved players of all ages.
"Scotland have a lot of school bands and that's what we're trying to do here in Northern Ireland," he said.
"We're trying to encourage everyone to get behind, the school authorities and everyone, to try and gain the momentum here which really we haven't lost, but we want to build it and make it better."