Ulster Bank could get private 'capital boost'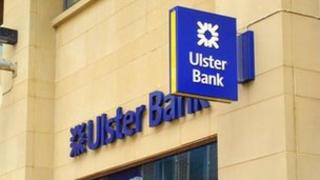 Ulster Bank in the Republic of Ireland could be in line for an injection of capital from private equity firms, according to a report.
The Sunday Times reported that the bank's parent company, Royal Bank of Scotland (RBS), is in talks with a number of firms over the plan.
It was reported that the plan would see the bank's Republic of Ireland division being merged with another Irish bank after the capital boost.
RBS declined to comment.
The new Ulster Bank would eventually float on the stock market releasing capital for the private equity investors.
The newspaper said Warburg Pincus, CVC, KKR and Permira were among the private equity groups examining the proposals.
The Sunday Times report added that advisers at Price Waterhouse Coopers (PwC) are acting on behalf of RBS and had circulated an information pack among potential backers, while Morgan Stanley was also working on the proposed transaction.
In May, RBS chief executive, Ross McEwan, said he wanted to achieve economies of scale in Ireland and would be happy to work with other parties to achieve that.