Nelson McCausland identifies 100 jobs for Coleraine DVA staff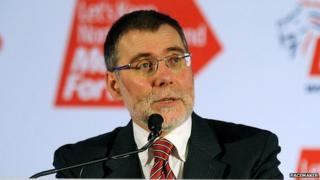 The social development minister has said 100 short-term posts could be offered to Driver Vehicle Agency (DVA) staff losing their jobs in Coleraine.
More than 300 DVA jobs will be lost throughout Northern Ireland, but mainly in Coleraine, when motor tax services move to Swansea, on 21 July.
Nelson McCausland said a number of potential areas of work at his department had been identified.
The jobs would be until the end of the year.
"I have arranged for officials to meet with their counterparts as soon as this Friday, with a view to exploring potential areas of work that could support up to 100 posts on a short-term basis through to December this year, which would be located in Coleraine," he said.
"I would hope to be in a position to provide the details of these opportunities within the next few weeks.
"The position in Coleraine is a priority for all departments and one that I know all my ministerial colleagues and I are committed in trying, where possible, to find solutions."
Earlier this month, Environment Minister Mark H Durkan announced that 50 vacant posts at his department would be filled by DVA workers in Coleraine.
In addition, 20 staff are to relocate from Belfast to Coleraine to help "lessen the impact on the local economy" of the job losses.
The Northern Ireland Public Service Alliance (Nipsa) said DVA workers would "take heart" from the announcement.
Assistant Secretary Ryan McKinney said it was "a positive development".
"Clearly. if the will is there then solutions can be found, what we now want to see is a long-term solution which will see all staff retained in Coleraine," he said.