Queen and Prince Philip to visit Crumlin Road Gaol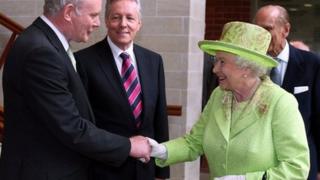 The Queen and Prince Philip will take a tour of Crumlin Road Gaol in Belfast during a visit to Northern Ireland next week.
During their three-day trip they will also visit the set of the TV series Game of Thrones in the Titanic Quarter.
The visit gets under way on Monday 23 June and will finish on Wednesday 25 June.
The royal couple will also attend a Royal British Legion reception in Coleraine, County Londonderry.
City Hall will play host to the Queen and Price Philip where they will be guests at a lunch celebrating the 'Best of Belfast' hosted by Lord Mayor Nichola Mallon. Guests will include representatives of communities and groups across the city.
The royal couple will stay at Hillsborough Castle during their visit and will meet with Secretary of State Theresa Villiers and First Minister Peter Robinson and Deputy First Minister Martin McGuinness at the castle in their first engagement.
It will be their 21st visit to Northern Ireland.
Their last was in June 2012, as part of Her Majesty's Diamond Jubilee celebrations.
During that visit, the Queen and Mr McGuinness, a former IRA leader, shook hands for the first time.
In April, Mr McGuinness toasted the Queen during a banquet at Windsor Castle as part of the state visit of Irish president Michael D Higgins.