RNLI celebrates 190 years of saving lives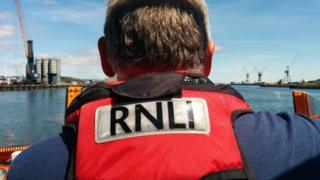 If it had to, a Trent class lifeboat could carry more than 80 survivors of a disaster-at-sea.
On Wednesday, it faced no such challenge as it showed off its capabilities on Belfast Lough.
The lifeboat is among the equipment used by the Royal National Lifeboat Institution (RNLI) which is celebrating 190 years of saving lives.
It is an impressive boat playing a traditional role but a jet-ski and a flood rescue van are more recent additions to the RNLI.
The organisation has been providing lifeguards for beaches and helping out with flooding for the last decade.
In Northern Ireland, there are nine lifeboat stations and the charity's lifeboats responded to 302 incidents last year.
Over the same period, its lifeguards attended 302 incidents at the ten beaches they cover in Northern Ireland.
During the predicted tidal surge in January, the RNLI had 30 flood rescue trained staff on standby.
Gareth Morrison, RNLI divisional operations manager, said flood response was a relatively recent addition to their repertoire, but one that was likely to increase.
"It's fairly well acknowledged that flooding is increasing," he said.
"We don't pretend to be the world's experts in flood rescue but we are there to support the fire service.
"Ultimately the RNLI has a team of volunteers, made up of lifeboat crew who have additional qualifications and training to deal with fast flowing flood water rescue, available on six hour notice to be anywhere in Northern Ireland."
Commitment
The type of volunteer is changing as well. Historically, fishermen and those working in seafaring or coastal trades would have been the backbone of the RNLI.
The decline of the fishing industry and changes to working patterns mean the members of a crew today are as likely to be a doctor or an electrician.
But the commitment remains the same. They are on call at all hours and in all weathers.
Philip McNamara has been with the Donaghadee lifeboat, in County Down, for 25 years, 15 of those years as coxswain.
"I used to work on local pleasure boats taking people to the big Copeland island, and on fishing boats," he said.
"It was a sort of natural progression for me. I wanted something exciting and challenging and certainly the RNLI provides that for me, a sense of adventure."
There are frustrations for crew, when they are unable to save lives.
"We had a call four years ago to go looking for two fisherman, one was found and the other wasn't," Philip said.
"It wasn't from the want of trying from ourselves and others from Newcastle, Clougher Head, Port St Mary and in helicopters. But we just didn't get the guy."
At the moment they are getting ready for their busiest time of the year, when the good weather brings families and watersports enthusiasts alike onto the coast.
The added traffic can even cause problems on the beaches where lifeguarding, the more recent branch of the institute, is active.
Hazards
Gareth Lavery is one of them. Like all the lifeguards, he has to pass a fitness test every month comprising swimming, underwater swimming and a beach sprint.
Based on Benone beach, County Londonderry, he said that last year they helped save 16 lives, but most matters are more routine.
"Because there are cars on the beach, it's a hazard we have to be aware of," he said.
"We actually have a lot of problems with cars, but it's a reasonably safe beach because we're quite round the coast in the lough, so we don't get such big waves.
"There's everything on the beach - Segways, surf schools, ice-cream vans. It's a good family-friendly beach.
"Most of our job is preventative action, making sure people swim between the red and yellow flags, keeping the surfers out of the red and yellow flags and away from hazards like rips and such.
"The way we work is we advise people rather than tell them. We're not the police."