Nelson McCausland refuses to apologise to Housing Executive building firms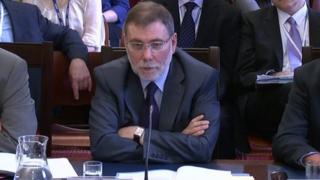 Social Development Minister Nelson McCausland has declined to apologise to four building firms he accused of being involved in a Housing Executive contracts scandal.
He named them in the assembly last year as having received an estimated £18m in overpayments for maintenance work.
The Housing Executive and the four firms have negotiated a settlement.
The social development committee has been told the settlement will not be approved and revealed before late July.
Committee chairman Alex Maskey of Sinn Féin said the speculation was it had gone from £18m "to probably zero".
The four companies, PK Murphy, Bann, Mascott and Dixons have always denied Mr McCausland's claim that they were overpaid.
They claimed they were actually owed money.
Three of them have since been awarded new contracts.
TUV leader Jim Allister asked Mr McCausland: "Why are you not man enough to say to those contractors 'I am sorry I got it wrong'?"
Mr McCausland replied: "You may have opinions you have formed without having the facts. I prefer to wait until I have something in front of me."
Mr Allister asked: "Are you looking for a good day to bury bad news?"
Mr McCausland replied: "No."
Mr Allister: "Do you stand over the £18m?"
Mr McCausland: "The figures are not the matter today."
The committee was told that while a settlement had been reached between the firms and the Housing Executive in May it had still to be signed off by the Department of Social Development (DSD) and the Department of Finance.
Officials told MLAs the process was a "complex" one, and would not be concluded until late July, by which stage the assembly will have gone into summer recess.
Mr McCausland said he had "no reason not to have confidence" in the chairman of the Housing Executive, Donald Hoodless, who had provided him with the £18m figure.