Edwin Poots: Prescription charges 'could buy cancer drugs'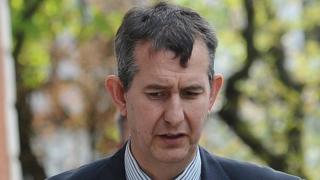 Reintroducing prescription charges of up to £25 a year per person could pay for a cancer drugs fund in Northern Ireland, the health minister has said.
Edwin Poots announced on Twitter on Thursday that a proposal to reinstate the charges is being considered.
"A small prescription fee with a maximum payment of £25 per year would acquire specialist/cancer drugs for NI," Mr Poots tweeted.
"I need the support of other political parties to make it happen."
The Democratic Unionist Party (DUP) member added: "Paper was submitted to FM/DFM (first minister/deputy first minister) over a year ago on a prescription charge to buy cancer drugs and specialist drugs, FM not holding it back."
The deputy first minister's party - Sinn Féin - is opposed to the reintroduction of prescription charges.
'Unfair'
In am official statement issued through the Department of Health on Friday, Mr Poots said: I do not consider it unreasonable for those who can afford it, to make a small contribution towards the cost of their prescriptions, particularly in light of the challenges of funding high cost specialist medicines including cancer drugs.
"There are a number of options that could be considered, one example of which could see any small charge for those who can afford to pay, capped at a maximum of £25 per year."
There are currently 38 cancer drugs available to patients elsewhere in the UK that are not readily available to critically ill people in Northern Ireland.
This is despite the fact that research and clinical trials for some of the drugs have been carried out at Queen's University, Belfast.
Roisin Foster, chief executive of Cancer Focus NI, said it was unfair that patients in Northern Ireland did not have the same access to cancer drugs as patients in England.
"While processes are reviewed and things are looked at, people are dying who could have their life extended," she said.
"We would like the minister to make a rapid decision on this and to move forward to make these drugs available.
"Our patients are just as important as those who live in Bradford and Birmingham."
'Cost per case'
In his statement, Mr Poots said he empathised with cancer sufferers and strived to provide the best treatment available to people in Northern Ireland "regardless of postcode".
He added that all cancer drugs approved by the National Institute for Health and Care Excellence (NICE) that are available in England are either "recurrently funded or available via a cost per case mechanism in Northern Ireland".
Mr Poots said the Health and Social Care Board (HSCB) has "a clear process by which unapproved cancer drugs can be made available to patients in Northern Ireland".
"Around 98% of the applications for unapproved drugs are accepted," the minister's statement said.
"While there is a desire to do more on cancer, we should not lose sight of the fact that across the broad range of conditions Northern Ireland is recognised by those in the pharmaceutical sector as the highest adopter of innovative drugs in the UK," he added.
Maeve McLaughlin of Sinn Féin told BBC Radio Ulster's Nolan Show on Friday that her party would oppose any type of prescription charges.