RUC pensions: Widowed spouses to have benefit reinstated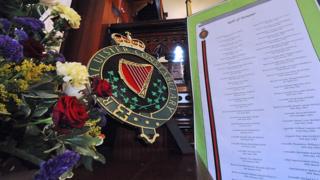 Widowed spouses of Royal Ulster Constabulary (RUC) officers, who lost their pension when they remarried, are to have the benefit reinstated.
The change will apply to those whose RUC partners died in service from January 1989 and those who retired after that date and subsequently died.
The move reverses a policy introduced in 1988, that abolished RUC pensions for widowed partners who got remarried.
Justice Minister David Ford said the reinstatement cost was not yet known.
The new RUC pension policy was announced by the Policing Board on Friday and is due to come into operation from the beginning of July.
It follows a TUV amendment to a public pensions bill passed earlier this year.
The board has advised former RUC widows and widowers who believe they have an entitlement as a result of this change to make contact with them by phone, letter or email.
The Policing Board said it is also exploring the possibility of extending the scheme to pre 1988 RUC pension schemes.
The chairman of the RUC GC Foundation, Brian Rea, welcomed the news.
"It is recognition of the contribution made to this community by police officers and their families," he said.
"We would hope that the change will be extended to include pre-1988 RUC pension schemes."