Armed Forces Day held in Newtownards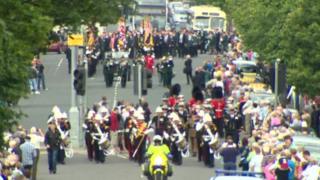 Newtownards has been hosting Northern Ireland's Armed Forces Day celebrations for the first time ever.
The programme of events in the County Down town included a parade of military personnel and an air display.
The gathered crowd also witnessed a "combined capability operation" involving ground and air troops.
It was the first time people in Northern Ireland had the chance to see such an operation up close.
The event began at 11:00 BST with a parade through the town to the airfield where the main events have been taking place.
Mayor of Ards, Philip Smith, said the event would be a "people's pageant".
"The purpose of the event - which will be echoed by other official Armed Forces Day events around the United Kingdom - is to provide an insight into the work of the armed services and to recognise and honour all those who serve," he said.
He added that the military capability demonstration would be "one of the most exciting" ever seen in Northern Ireland.
"We have a proud and long-standing military history in Ards borough and Armed Forces Day will give us an exciting new platform from which to showcase that heritage."
On Friday evening, the Armed Forces Day celebrations started in Donaghadee, County Down, with a simulated amphibious assault on the harbour and a visit by HMS Pursuer.