Richard Haass: NI politicians must show leadership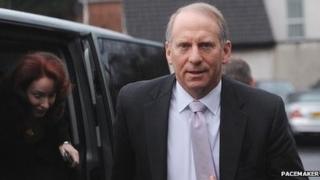 Former US diplomat Richard Haass has urged politicians in Northern Ireland to "show leadership" in dealing with outstanding peace process issues.
Dr Haass made the call during his acceptance speech after being awarded the Tipperary Peace Award.
Last year he chaired a talks process which ultimately failed to deliver consensus on outstanding peace process disputes in Northern Ireland.
He said he would willingly exchange the award for the deal he had striven for.
The Haass negotiations on long-standing problems over flags, parades and the legacy of the past broke up on New Year's Eve without an accord.
While a blueprint from the process remains on the table, political leaders at Stormont are no closer to an agreed way forward.
During the award ceremony in Tipperary on Monday, the former diplomat stressed the dangers of complacency in Northern Ireland and warned that the security situation could deteriorate if the issues inhibiting progress were left unresolved.
'Peace and tranquillity'
"Complacency is a luxury we cannot afford," he said.
"Northern Ireland has not yet reached a point in which peace and tranquillity can be taken for granted.
"It is all too easy to imagine how a parade or protest could spark violence; it is all too easy to imagine how local violence could grow and spread."
He said violence could also lead to an increase in paramilitarism, as there were groups who would embrace the opportunity to demonstrate what they see as their continued relevance.
"Developments such as these would only discourage investment, drain public resources, motivate the most talented young people to make their futures elsewhere, and harden the divisions within society," he said.
"Still, as honoured and as happy as I am to be here with you today, I gladly would have elected to forgo the award for an agreement, which, as everyone knows, we came close to getting but in the end did not."
Former recipients of the award, which was established in 1984 to recognise people who promote peace and co-operation in Ireland and across the world, include the late Nelson Mandela, Bill Clinton and the campaigning Pakistani schoolgirl shot by the Taliban, Malala Yousafzai.
Dr Haass said it was "ironic" that a mediator had been selected for the 2013 award as he claimed that such individuals, while potentially important, were rarely decisive when it came to securing a peace agreement.
'Criticised'
"What is most important to peacemaking - more important than any mediator, more important even than the details of a proposed accord - are local leaders, the principal participants in the process," he said.
"They must be both willing and able to compromise. They must also be willing and able to stand by an agreement when it is criticised, as all agreements inevitably are.
"It is this combination of flexibility and steadfastness, of conciliation and conviction, that more than anything else makes a situation ripe for resolution."
He said the 1998 Good Friday Agreement in Northern Ireland more ended the war than built the peace. The region had not quite achieved normalcy and not quite peace.
"Anyone doubting this need only consider Northern Ireland's segregated schools and communities, the continuing terrorist threat, the high cost of policing, the all-too-often gridlocked government, and the reality that political parties are still more defined by religious traditions and national aims than by the role of the state in the economy or the relationship between the individual and government," he said.
Dr Haass spoke on the issues of flags, parades and the past and claimed that the framework emerging from last year's talks had the ability to make progress on all three disputes.
"I am not saying that what was negotiated last year is perfect or could not be improved upon. It was the result of compromise," he said.
"But while there may be other ways to approach these challenges, there is likely to be a limit to what can change and still command broad public support.
"I very much hope that the leaders of Northern Ireland, with the continued help of the British, Irish, and American governments, will make a determined effort to reach agreement."