Jason McGovern killing: Manslaughter trial is delayed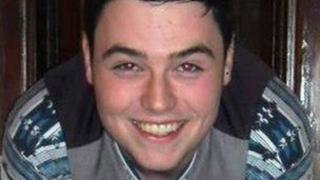 The trial of a man accused of killing a County Monaghan teenager during a night out in Omagh, County Tyrone, has been delayed until November.
Mark Donnelly, 22, from Greencastle Road in Omagh is charged with the manslaughter of Jason McGovern.
The 19-year-old was attacked after leaving a nightclub on New Years Eve in 2012. He was found dead at a friend's house in Emyvale.
Five people have admitted offences in connection with his death.
Mark Donnelly faces the most serious charge of manslaughter.
His trial was due to begin on Monday and a jury had been sworn in at Dungannon Crown Court.
However, with up to 30 people due to give evidence and statements from a further 30 witnesses and experts, prosecution and defence lawyers said the trial was unlikely to conclude before the summer holiday.
Judge Gemma Loughran said the delay would be disappointing for the family of Jason McGovern as well as the defendant.
The judge said there would be a considerable delay and indicated that the earliest date available to begin the two-week trial was in November.