Irish cigarette haul: Largest seizure in Europe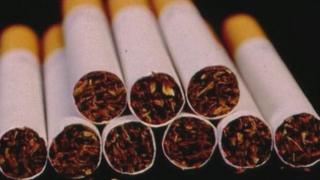 Irish customs officers have seized tobacco with an estimated value of 14m euro (£11.2m) at Drogheda Port.
Customs and police officers recovered 32m cigarettes and 4,000 kilos of tobacco when they boarded the MV Shingle early on Tuesday.
A police spokesman said the operation netted the biggest seizure of cigarettes in Europe this year.
The joint customs and police operation targeted an international gang led by Irish and UK nationals based in Europe.
The customs service's parent body, the Revenue Commissioners, said law enforcement agencies in Portugal, Slovenia and Ireland had spent months working on the operation.
The ship, which was loaded in Slovenia, travelled to Ireland via Portugal and arrived in Drogheda on Tuesday morning.
The vessel has been seized while follow-up searches are carried out in Ireland and other European countries.