Peace process issues: Stormont talks set for next week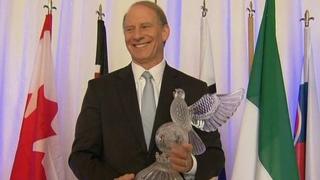 New talks aimed at finding a solution to the problems of flags, parades and the past in Northern Ireland are expected to be held next week.
It is understood there will be two three-day sessions beginning on Wednesday.
The plan emerged after party leaders met at Stormont Castle on Tuesday.
Six months of negotiations last year ended with no agreement on New Year's Eve. Further talks were announced this month.
Earlier on Tuesday, Alliance leader David Ford said that if no dates were confirmed, his party would call on Downing Street to convene talks with the Northern Ireland Executive parties and the Irish government.
Former US diplomat Richard Haass on Monday urged politicians in Northern Ireland to "show leadership" in dealing with outstanding peace process issues.
Dr Haass made the call during his acceptance speech after being awarded the Tipperary Peace Award.
Last year he chaired a talks process that ultimately failed to deliver consensus on outstanding peace process disputes in Northern Ireland.