St Mary's High School, Brollagh, saved from closure by John O'Dowd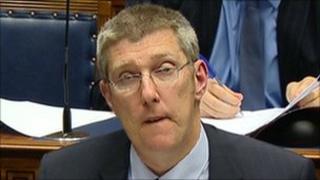 A small secondary school in County Fermanagh has been told it will not have to close despite a proposal by the Catholic authorities.
St Mary's High School in Brollagh, near Belleek, currently has 121 pupils, far below the recommended minimum.
Education Minister John O'Dowd rejected a proposal from the Council for Catholic Maintained Schools (CCMS).
CCMS wanted to stop admitting year eight and year 11 pupils in September and to close next year.
The minister said he had taken into account the school's isolated rural location and wanted further investigation of its plan to link up with schools on the other side of the border.
"The option of cross-border collaboration needs to be further examined and I am calling on CCMS and the WELB (Western Education and Library Board) to bring forward a pilot scheme which would allow the school to work with schools on the other side of the border," he said.
Mr O'Dowd said he had no doubt the local community would continue to support St Mary's and said the best way to offer that support was for parents to register their children with the school.
Simon Bradley, the acting principal of the school, said the news it would not be closed came as a shock.
"I think, like most people within the education community, were quite stunned by it, we weren't expecting it," he said.
"Having said that I'm delighted for the local area, delighted for the parents action group, who have worked incredibly hard over the last 18 months to draw attention to the need for rural education.
"It's great news, but there's a lot of work has to be done now if this is going to work for the long-term future.
"First and foremost the school is in dire need of capital investment. I'm not sure what the figures are, but certainly it's in the hundreds of thousands."