Ciaran McCleave trial: CCTV operator found guilty of voyeurism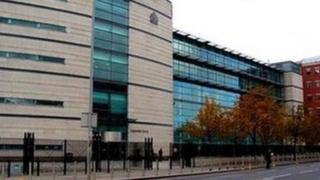 A CCTV operator has been found guilty of repeatedly watching a woman in north Belfast with a police camera.
Ciaran McCleave, 50, of Collinward Gardens, Newtownabbey, was accused of voyeurism for sexual gratification and misconduct in a public office while working at Antrim Road police station.
He had denied all eight charges against him.
McCleave was released on bail and will be sentenced on 5 September.
The court heard that he directed a camera at a woman's apartment for 79 minutes over a 26-day period.
The camera he used was supposed to monitor a north Belfast interface.
Belfast Crown Court was also told that, on one occasion, the woman was viewed in her underwear after coming out of the shower.
The court heard that the woman, who has since moved from the apartment, is still receiving counselling.
The offences date back to between October and November 2012.
In the trial, that lasted over one week, the jury were told that McCleave was a CCTV operator who sat at a workstation in front of a bank of 48 cameras at the north Belfast police station.
The court was told that McCleave's offending was discovered on 12 November 2012, when a colleague noticed that a camera had been zoomed into the living room of a young woman's apartment.