Glenavy River: Dozens of fish killed in County Antrim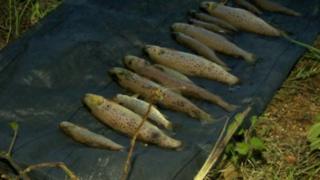 A number of fish have been killed in a river in County Antrim.
Dozens of fish, including brown trout, have died in the incident in the Glenavy River.
Barbara McGeown, from the Glenavy Conservation and District Angling Club, said the number of dead fish could run into hundreds.
She said that the full extent of the incident was not yet known, but that the cause "looks like pollution".
The fish kill was first reported on Friday at about 17:00 BST. The Northern Ireland Environmental Agency has been notified.
Ms McGeown said: "It's very disappointing. We can't believe it has happened.
"We have restocked the river over the last five years, and there is a lovely plan to have a river pathway and fishing stands built over the next two or three months.
"So it's quite a shock to us."
She added that there was "concern" that the incident may spread farther downstream, as the Glenavy River flows into Lough Neagh.