Dunmurry: Woman describes car hijack shock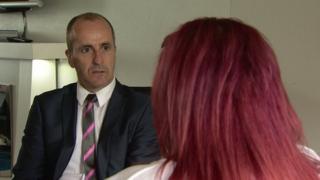 A woman has described the ordeal of having her car hijacked by a masked gang near west Belfast.
It happened as she was driving on Brians Well Road in Dunmurry at 18:35 BST on Saturday, on her way to take medicine to her son.
When the woman slowed down at ramps the gang appeared.
Their faces were covered with scarves. One of them told her to get out of the car and it is thought that he may have been armed with a knife.
"A fella just appeared at the side of the car and opened the door and shouted at me to get out," said the woman, who did not wish to be identified.
"He had something in his hand, it looked like a knife. I just panicked and got out of the car.
"Then he was away in the car. There was two fellas hovering behind him and they were away as well. I couldn't believe how quick it happened."
The woman was left standing by the side of the road. Her car was later found on fire in the Summerhill Road area.
She said: "I couldn't get over that. Why steal a car and just burn it?
"I'm really in shock. Anything could have happened to me standing there. They could have come back. I was there by myself, there was nobody there to help me.
"I would be very afraid to drive out by myself anywhere."
Detectives have appealed for witnesses.