NI health and social care complaints up 46%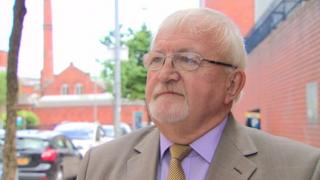 Complaints about poor administration in health and social care have increased by 46% in the last year, it has been confirmed.
The annual report by the Northern Ireland ombudsman, Dr Tom Frawley, said the complaints about health and social care were "increasingly profound".
The report shows the surge had contributed to a 31% increase in complaints about public services.
The assembly was given the report on Monday.
'Ongoing pressures'
The report found that most of the complaints received by the ombudsman regarding health and social care involved "serious adverse clinical incidents", or the "death of a loved one".
Dr Frawley said the findings were evident of the "ongoing pressures" felt by the health sector.
He said: "The health and social care sector is being increasingly challenged to demonstrate openness and transparency in the way it investigates complaints and thus maintain the trust and confidence of patients and their families.
"It is essential, therefore, that it meets the challenge of delivering rigorous and professional standards of complaint handling and for clear explanations to be provided to the complainant as early in the process as possible."
In his report to the assembly, Dr Frawley said complaints against government departments and their agencies also increased by 19%, while complaints against local councils rose by 27.7%.
Dr Frawley added: "As the reform of local government proceeds and the new super councils begin the transition to take greater powers and responsibilities, the notable increase in dissatisfaction from citizens merits particular attention from those charged with delivering public services locally."