Queen's academic Tony Gallagher unaware of 'phantom book'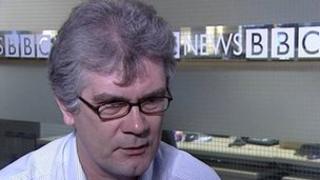 A senior academic at Queen's University, Belfast, says he is unaware of references to a non-existent book that he is said to have jointly edited.
Professor Tony Gallagher is a pro vice-chancellor at Queen's.
He was mentioned in an article in the Times Higher Education newspaper, which described a "phantom book" as being listed in the academic history of another Queen's lecturer, Dr Ron Smith.
Professor Gallagher was named as co-editor of the book.
However, the book, entitled Education for Inclusion and Diversity, does not actually exist.
It was not listed among Professor Gallagher's academic publications and he says it is the first he has heard of being associated with the non-existent book on educational special needs.
The Times Higher Education said it was contacted by a retired healthcare researcher who told them "no such book appears in the British Library's catalogue".
The paper said that a book of the same name was published in 2008, but that it is edited by two academics from the University of Queensland, and that the Queen's academics were not involved with it.
Professor Gallagher said he was approached in 2010 to collaborate on such a book, but has heard nothing since.
He said: "If a mistake has been made, someone else has made it. I have never cited a reference to this book in my research record."
Dr Ron Smith has not responded to requests for a comment.
A spokesman for Queen's University says it will be investigating, and that it is the responsibility of individual staff members to make sure entries to the research portal, where academic work is declared, comply with university policies on conduct and integrity in research.
In October 2013, Professor Gallagher was accused of including a reference to an unpublished paper on academic selection, in a report which he co-authored.
An investigation concluded that there "was one incorrect reference which resulted in appropriate actions being taken internally".