Number of Northern Ireland prisoner complaints up 11%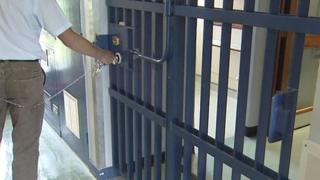 The number of complaints from Northern Ireland prisoners rose by 11% in the last year, according to the prisoner ombudsman.
In 2013-14, the ombudsman investigated 450 new complaints, four deaths in custody and three post-release deaths.
Eighty per cent of the complaints came from Maghaberry Prison. Overall, 46% of the complaints were upheld.
Property and cash, visits, staff attitudes, and accommodation accounted for 40% of the complaints.
Prisoner Ombudsman Tom McGonigle said his office made 323 recommendations for improvement.
Ninety per cent of these were accepted by the prison service, he added.
"Throughout the year we heard of several situations where prisoners almost died in each prison, but were saved by prompt and effective staff intervention," Mr McGonigle said.
"We made 99 recommendations for improvement in relation to the care of prisoners."