North-south interconnector: Panel finds no review needed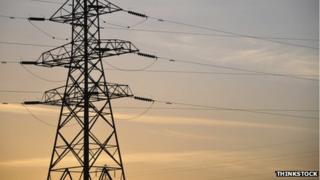 A project to link the Northern Ireland and Republic of Ireland electricity grids has avoided further delay after an independent panel said it did not need to be reviewed.
The panel was established by the Irish government to assess the controversial upgrading of the country's power grid.
Work on the north-south interconnector will likely involve building large pylons across parts of the countryside.
The panel said previous assessments and studies meant a review was not needed.
However, it added that the planning process would allow objections to be registered and be considered.
EirGrid, which owns the grid in the Republic, welcomed the assessment.
It said the north-south link was "absolutely vital and urgent" for consumers across the island.
Last week, the Institution of Civil Engineers (ICE) warned that Northern Ireland could face serious energy shortages if work on the interconnector was not started soon.
It is concerned the delay could lead to power cuts because of other shortfalls in the generation of electricity.
The ICE said if the project was delayed beyond 2021, the risk to security of supply "becomes very high indeed".
The link was meant to be ready by 2017, but the earliest it is now likely to be built is 2019.