Cold Water California: Can surfing save a seaside town?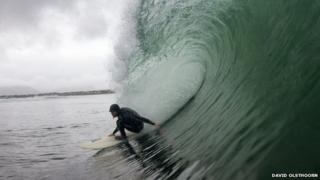 With freezing waters and long, dark winters, Ireland may seem an unlikely place to surf.
However, the island's surfing industry is growing fast and may even aid the economic recovery of recession-hit coastal communities north and south of the border.
"I can't think of any other activity that would attract people from Hawaii, California and Australia, at any time of year, but especially in the middle of the Irish winter," says former Irish surf champion Richie Fitzgerald.
He is looking out to the wild Atlantic Ocean from the safety of shore in Bundoran, County Donegal.
"For a village of 1,600 people, surfing employs more than 100 people directly," Richie says.
"There's four big surf schools year round, but at the height of summer you could have 700 people going through the lessons per day, so I think it's worth millions to this little village."
'Recession-proof'
Richie runs one of the town's surf shops, and says that even though his retail business took a hard hit during the recession, the fundamental appeal of the waves survived the collapse of Ireland's Celtic Tiger economy.
"The waves don't change, it's not what I'm selling in the shop," he says.
"We have world-class waves here and that's what brings surfers back time and time again - that's what makes surf recession-proof."
Like many seaside towns, Bundoran's glory days as a holiday hotspot have faded.
For Nan Brennan, who runs a pub on the main street with her sister Patricia Brennan, the town's decline set in many years ago.
"The railway used to stop here, which made a big difference to Bundoran in the summer time, but the train stopped in 1957, so that put an end to that," Nan says.
"The season was so short any way - people only went to the beach from Easter to September".
The sisters said they believe surfers have helped to revitalise the town's fortunes in recent years.
"In the winter-time, even on Christmas day, to see them out surfing - you would never have seen anyone out on the beach on Christmas day. They're a big asset to Bundoran," Nan says.
Further down the street, Killian O'Kelly who runs one of the town's big surf schools, is more guarded about the economic impact of surfing.
"Are we talking dollar figures here? Euros? I'd say surfing is 1% of the economy here.
"Gambling, country and western, golfing and alcohol bring the money to this town. Surfing has added to Bundoran, it has not replaced the Bundoran that I grew up in," Killian says.
Over the border, on the north Antrim coast, surfing is also shaping the seaside community of Portrush.
'Definite upsurge'
Andy Hill, another former Irish champion, started one of the country's first surf shops with his father Ian in 1984, and has seen huge changes since then.
"When I was young, people didn't have wetsuits, now you can enjoy the sea all year round - the water is freezing, but you're warm in it"
It is a far cry from Ian's first dip in the ocean, at Easter 1964.
"I went in wearing only jeans and a t-shirt and [almost] froze to death, and I didn't know you had to put wax on the surfboard, so I kept slipping off till I learned to drip candle wax on the top of the board!"
Like Richie's surf shop in Bundoran, Andy and Ian's business was affected by the recession.
"Things were very, very good to us until the economic downturn. At the height of the boom, people were buying surf boards just to put them on the roof of the car - but we're still here," Andy says.
He has noticed a definite upsurge in visitor numbers to Portrush, drawn by the town's three blue-flag beaches and the surf that crashes on their shores.
"I think we're in for a very busy summer. A lot of people can't afford to go away for their holidays, and I see more people coming over from the mainland who are used to crowded surf beaches in Cornwall and Devon.
"Here the beaches are less busy, and we have so much good surf," Andy says.
'Hooked'
Back at Bundoran's Tullan strand, Owen Murphy is teaching a group of young women how to surf their first waves.
Perhaps more than anyone, Owen's story demonstrates the difference surfing has made to coastal communities.
Working as a well-paid carpenter in Boston, he was convinced to come back home at the height of Ireland's Celtic Tiger boom, only to lose his job overnight.
"I kind of fell into a slump, having a few beers every day - it was at the point where I had nothing ahead of me," Owen says.
By chance, he heard an advert on the radio for a lifeguard course in Bundoran.
"I'd never been up this way in my life, but I always loved the sea, so I thought I'd give it a go."
Before he knew it, Owen was hooked on surfing and had started a new career as a surf instructor.
"I'm settling here - there's a lot of people from New Zealand, Australia and South Africa, drawn by the surf, who now call this place home.
"So yeah, you could almost say the surfing saved me."
Broadcaster Mark Patterson explores the impact of surfing on recession-hit coastal communities in Cold Water California. The programme will be broadcast at 11:00 BST on Monday 7 July on BBC Radio Four.