Woman jailed after court hears of Chinese 'Triad-type' drugs network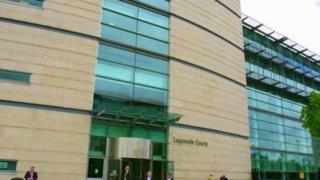 A woman has been sentenced to 15 months in prison after a court heard that herbal cannabis was being shipped into Northern Ireland by Chinese gangs.
Lan Lan Guo, 31, from Camden Street, Belfast, admitted 18 charges including money laundering and drugs offences.
Belfast Crown Court heard she was arrested by police investigating gangs who operated a "Triad-type network".
The judge said Guo had "gained little" out of the gang but was nonetheless an "important cog in the wheel".
The gangs are suspected of growing herbal cannabis and distributing it throughout the UK, as well as moving large amounts of money.
As part of the criminality, houses known as "benign recipient addresses" were rented in Northern Ireland where packages of drugs were delivered.
The prosecutor told the court that on 14 July last year, a package containing £18,000, which was posted in Belfast and bound for an address in London, was intercepted.
Guo's fingerprints were found on the package.
Packages
Police called at her home on 14 July 2013 on suspicion of money laundering.
The property was searched and £10,500 was found along with cannabis worth £50.
An investigation was launched after it emerged that Guo had rented nine properties in Belfast, County Down and County Antrim.
All the houses were "benign recipient addresses" and police subsequently intercepted packages containing cannabis that had been posted to several of the addresses.
Several landlords of these properties subsequently confirmed that a woman matching Guo's description had rented the properties and paid rent on them.
The police also uncovered evidence that Guo had transferred criminal property on several occasions.
During interviews, the defendant initially denied claims that she was forced to work as a prostitute and denied any involvement in money laundering or drugs.
She later pleaded guilty to a string of charges including transferring criminal property and concerning herself in the supply of Class B drugs.
When asked at what level Guo was in the criminal gang, the prosecutor said she was "49s", a reference to an initiated but lowest level member of a triad-type hierarchy.
'Vulnerable'
The court heard that the total amount of money involved in Guo's criminality amounted to £54,580, while the drugs in question were about 10kg of herbal cannabis.
The court was also told that the demand for cannabis in Northern Ireland outstrips the supply and, to supplement this, Chinese gangs organise deliveries from various cities in England and Wales.
The defence barrister said Guo was acting "under the influence of others".
He said she was "vulnerable" and someone who was exploited due to her status as an illegal immigrant.
He added that the "difference between her and the principal benefactors" was considerable and that they were "far removed from the nitty-gritty of the offences".
The judge said: "It is clear she has come into contact with more sinister people, and I accept she has gained little out of this.
"But, she was, nonetheless, an important cog in the wheel."
He sentenced Guo to 15 months in custody and 15 months out on supervised licence.
She will also be automatically deported when she is released from prison.