Katie Melua honoured by Queen's University, Belfast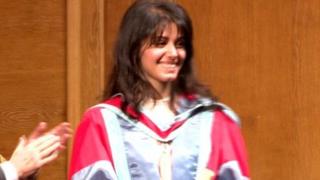 The singer Katie Melua, who spent part of her childhood in Northern Ireland, has received an honorary degree from Queen's University, Belfast.
The 29-year-old star was born in the former Soviet republic of Georgia but moved to Belfast at the age of eight.
She lived in the city for six years, while her father worked as a doctor in Belfast's Royal Victoria Hospital.
Her family then moved to England, but the chart-topping singer said Belfast remained "very close" to her heart.
Queen's University is honouring Melua for her services to music.
Formative years
The singer-songwriter released her debut album, Call Off The Search, in 2003 and the record became an international number one.
Since then she has recorded five more studio albums and performed for the Queen and Nelson Mandela.
During her formative years in Northern Ireland, she attended St Catherine's Primary School on the Falls Road, west Belfast, and later Dominican College in the north of the city.
When she moved to England as a teenager, she enrolled in the Brit School for Performing Arts in Croydon.
She was studying for her A-level exams at the school when her musical talent was discovered by the songwriter and music producer, Mike Batt.
She played a song for him that she had written in tribute to the deceased singer Eva Cassidy, and Batt invited her to work with him.
The following weekend, the pair held their first recording session, recording a number of songs, including a new track Melua had just written called 'Belfast'.
As a result of the partnership, Melua rose to fame at the age of 19 with the hit single The Closest Thing To Crazy.
'Delighted'
Since then, she has become a multi-millionaire and collaborated with Batt on many of her albums.
Melua also supports a number of charities including the British Red Cross, to which she donated the entire proceeds of her 2007 single What A Wonderful World.
Speaking in advance of Saturday's graduation ceremony, Melua said: "It was a complete surprise and really unexpected to be awarded this honorary degree and I am so delighted.
"I consider Belfast a city very close to my heart and to be recognised in this way in the field of music is phenomenal."
The university also awarded an honorary degree to its former president and vice-chancellor Professor Sir Peter Gregson.