Union flag put up in Dervock Catholic church grounds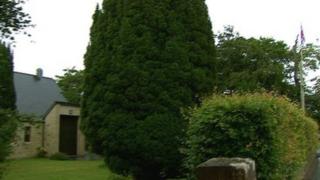 The DUP mayor of Ballymoney has called for a union flag in the grounds of a Catholic church in County Antrim to be removed.
Loyalists put the flag on top of an electricity pole in the grounds of Our Lady and St John the Evangelist Church in Dervock, near Ballymoney.
Nationalist and unionist politicians have called for the flag to be removed.
Mayor of Ballymoney Bill Kennedy said it was "totally wrong" to put the flag up in the church grounds.
"There's many other places in Dervock where they could put their flags and they have done," he said.
"To put one inside any place of worship without permission is totally wrong and I hope that common sense will prevail and they will take it down.
"It doesn't help anybody's cause."
'Respect'
Ulster Unionist North Antrim MLA Robin Swann also called for the flag to be taken down.
"All places of worship of whatever denomination are entitled to be shown respect," he said.
"By entering the grounds of this church to erect a flag, those responsible are showing a lack of respect for both the church and for the union flag itself. It should be removed."
Sinn Féin MLA Philip McGuigan said the flag was "marking out territory and intimidating the people who use this church".
"The local community want this flag to come down," he said.
"All churches and places of worship should be treated with respect and church-goers should not be intimidated with flags."