Strabane: Police attacked during bomb alert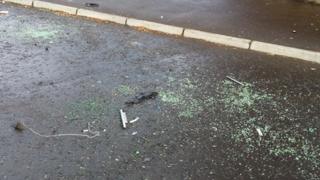 A bomb alert in County Tyrone which forced a number of families to leave their homes overnight has ended.
Police said they were attacked with paint bombs and pieces of masonry as they examined a suspicious vehicle in the Ballycolman estate in Strabane.
The alert began late on Monday evening. Two controlled explosions were carried out in the early hours of Tuesday.
Police said nothing untoward was discovered and residents have returned to their homes.
About 30 families were moved to the Riversdale leisure centre during the alert.
'Enough disruption'
SDLP councillor Patsy Kelly said the vehicle, which had Donegal registration plates, had been parked in the area for several days.
"People in Strabane have had enough disruption through the years, and they're fed up with it," he said.
"They deserve to be able to sleep at peace in their homes without this unnecessary and unwanted disruption."
In March a bomb was found at Strabane Golf Club at Ballycolman Road. Police said it was an attempt to draw them into the area.
In November 2013, a police patrol was targeted in a pipe bomb attack in the Ballycolman estate.