Garth Brooks: Dismay as businesses begin refunding customers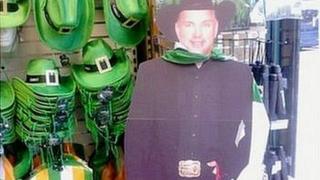 Businesses on both sides of the Irish border have been speaking about the impact of the cancellation of five Garth Brooks concerts in Dublin.
The concerts were axed on Tuesday after a licence was granted for only three of the shows.
The promoters said they had "exhausted all avenues" in relation to staging the gigs at Croke Park.
But there has been anger and disappointment from retailers at their subsequent loss of income.
A Newry man, who runs a guest house near Croke Park said he was disheartened by the cancellation of all the concerts.
Micheal Cunningham's Ashling guesthouse in Drumcondra was fully booked by Brooks fans.
He said he may have to refund customers 6,000-8,000 euros (£4,700-£6,300) and has already paid out 4,500 euros (£3,500).
He said his 12-bedroom guesthouse, which has been fully booked for the five nights of the concerts period since January, was within a few hundred metres of the Croke Park venue.
'Inundated'
"I have been inundated with emails and phones calls from people looking for refunds and I have already begun to reimburse them," Mr Cunningham said.
"I've already given a refund to one woman who booked eight rooms for family and friends, a couple of whom were coming over from England for one of the concerts.
"Others in the hospitality business will lose a great deal more than me. A hotelier I know will lose around 80,000 euros (£63,500)."
However, he said the cancelled concerts could mean good news for some people as hoteliers and guesthouse owners would be attempting to cut their losses.
"There will now be lots of hotel rooms available in the Dublin area over that period and they will be offered at bargain rates," he said.
'Hours of work wasted'
United Bus Company, a family run business based in Carrickfergus, County Antrim, has also lost out because of the concert cancellations.
Debbie Stewart, who works for the company, said they had been "very badly affected".
"We have lost between £6,000 and £7,000 which is huge for a small company," she said.
United Bus Company was offering return journeys to the Garth Brooks concerts from a number of locations including Larne, Whitehead, Carrickfergus and Ballyclare.
The company said they would be giving full refunds to all the 300 people who had booked buses.
"We feel, as a company, it is important for our reputation and and for future business," she said.
"Our phone has not stopped since yesterday. People want refunds instantly."
Ms Stewart said the loss to the company was not only financial.
"The time spent taking bookings and processing payments is hours of work which have been wasted," she said.
'Open for business'
Dara Butler, of Carrolls Irish Gifts, that is based in Dublin, said the concert cancellations, and the loss of hundreds of thousands of potential visitors, would have a huge impact on retailers.
"It is estimated that £50m will be lost in revenue across all sectors because of these cancellations," he said.
Carrolls Irish Gifts had pre-empted a demand for concert merchandise, ordering Garth Brook cardboard cut-outs, cowboy hats and T-shirts.
"Thankfully, we were able to cancel our order for the T-shirts as they hadn't been printed yet," Mr Butler said.
"If the event had been any closer it could have been a different story.
"It is always risky buying merchandise for a particular event as this merchandise will become worthless the day after the event takes place."
However, Mr Butler hopes people who had booked hotels and flights to Dublin for the concert will still visit the city.
"Dublin is open for business" he said.
"Dublin will still be a vibrant city that weekend and there will be plenty on offer for those coming to visit.
"If Carrolls were in the bar trade, we would be hosting events for the disappointed ticket holders with line dancing classes, a DJ and a best dressed cowboy and cowgirl awards ceremony."