Wrightbus wins £30m bus contract in Singapore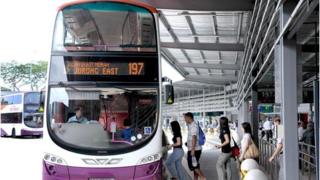 The Northern Ireland firm, Wrightbus, has won a contract worth more than £30m to supply buses to Singapore.
The deal is its fourth consecutive contract with SBS Transit, a bus and rail firm based in Singapore.
Wrightbus' international arm will supply SBS Transit with 415 double decker buses over the next three years, in partnership with Volvo Bus.
Since 2011, Wrightbus has delivered more than 1,000 buses to Singapore from its plant in Ballymena, County Antrim.
Wrightbus packages and supplies buses in kit form to Singapore and other markets in Asia, including Hong Kong, from its Ballymena base.
The vehicles are then assembled by local engineering companies.
In May, the firm said it planned to create 130 new jobs at another factory in Antrim which manufactures chassis, as part of an overall £14m investment.
More than £10m of that investment has been earmarked for research and development projects, aimed at developing new vehicles for export to Asia and the Middle East.
The latest contract with SBS will not result in any new jobs being created by Wrightbus but will sustain its current workforce, the company said.
Steve Harper, business development director for Wrightbus International, said: "This latest order is part of SBS Transit's on-going programme to completely renew its fleet and provide 'greener' vehicles for the benefit of passengers and the wider Singaporean environment.
"Together with Volvo, we already have an extensive after-market organisation in place which will be further expanded to ensure that all the 1,430 vehicles which will be on the road by 2017 are fully supported to SBS Transit's exacting standards."