Twelfth July policing: Hoping for best and preparing for worst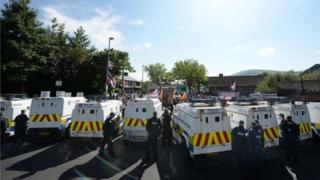 An iron fist in a velvet glove.
That is how the police will approach Saturday's 12 July parade in north Belfast: hoping for the best, while prepared for the worst.
There is increasing optimism that contingency plans to deal with loyalist rioting when a line of police officers prevents the parade from walking past the nationalist Ardoyne area on Saturday night, will not be needed.
But police commanders will not be taking any chances.
More than 3,500 officers will be on duty at 12th parades across Northern Ireland.
Of those, about 1,100 will be deployed in north Belfast. They will include 36 Tactical Support Groups (TSGs), what the police call public order units and what are commonly referred to as riot squads.
Each TSG unit has 25 members, so there will be 900 specially trained officers on standby to deal with any serious public disorder, if needed.
Another 22 TSGs, consisting of 550 officers, will be on duty in other parts of Northern Ireland.
There is guarded optimism among the police and the Orange Order that there will not be a repeat of the serious violence that erupted when the Ardoyne parade was stopped last year.
That is reflected in the number of officers who will be on duty. Last year, there were 4,170, including 630 brought in from England and Scotland under an arrangement called mutual aid.
None have been brought in this year, reducing the total number of officers being deployed on Saturday to about 3,500.
Preparations have been made to bring in hundreds of mutual aid officers as reinforcements at short notice if required, but the PSNI is confident it will not need to do so.
They are also hopeful that the vast majority of the TSG units deployed will not be needed.
While last year the violence was forecast in advance, this year there are no indications that loyalists are preparing for confrontation.
Police sources say there is nothing to suggest loyalist paramilitaries have an appetite for a fight and that there is no "organisational intent" to do so.
The police have welcomed repeated pleas from the Orange Order and unionist politicians for all protests to be peaceful and lawful.
However, the cost of policing the Twelfth will still be more than £2m because resources will be deployed as a contingency plan just in case they are needed.
The cost of policing all parades and Union flag protests since December 2012 has been put at about £55m.
Policing parades during the marching season from April-August 2013 was £21.8m. The bill for policing flag protests from December 2012 until March 2013 has been put at £21.9m, and policing the nightly protests at Twaddell Avenue since 12 July last year has added a further £10m.
During the same period, 698 people were arrested and charged with about 1,200 offences. Of those, 561 were convicted.
Senior police officers believe those figures will act as a deterrent to anyone considering engaging in violence this year.
"We don't want to spend the next year chasing young loyalist kids around to put them in jail for something they do over the next few days," said one.
The dissident republican threat remains severe and there are concerns that they could attempt to target police officers on duty at parades, but PSNI sources stress that plans are in place to protect them.