Ligoniel memorial to Scottish soldiers attacked again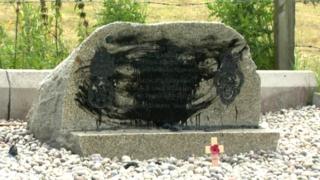 A memorial to three IRA murder victims, which has been repeatedly attacked since 2009, has been damaged again.
Paint has been thrown over the monument that commemorates three young fusiliers from Scotland who were killed on the outskirts of Belfast in 1971.
The paint attack on the memorial, at White Brae, Ligoniel, was reported on Saturday morning and police are treating it as a sectarian hate crime.
The monument has been vandalised at least 11 times in the past five years.
It was erected in 2009, as a tribute to teenage brothers John and Joseph McCaig, and their 23-year-old colleague Dougald McCaughey.
The three off-duty soldiers were lured to the area and shot dead by the IRA on 10 March 1971.
Members of the Royal British Legion took part in fundraising to pay for the memorial, which was installed in 2009 at the site where the soldiers' bodies were discovered.
In previous attacks, corner posts of the monument were broken, wreaths were destroyed and sectarian graffiti was scrawled on the memorial stone.
After one attack, the fundraisers were left with a repair bill in in excess of £1,500.
Condemning the latest attack, Bill Manwaring of the Ulster Unionist Party said: "Once again this memorial to one of the most evil atrocities of the last 45 years has been targeted by small minded bigots from within the nationalist/republican community.
"I recognise that acts like this are not supported by the majority of the nationalist/republican community, and would call on political, religious and community leaders to condemn such acts."