Rocks stolen from Portrush national nature reserve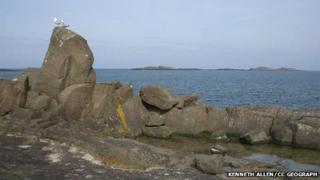 Sixteen pieces of rock have been stolen during a raid at Portrush National Nature Reserve.
It is thought the rocks contained examples of the ammonite fossils for which the reserve is world famous.
The site is located on the east side of Ramore Head between Portandoo Harbour and the Blue Pool.
Environment Minister Mark H Durkan said he was "extremely annoyed" at the thoughtlessness of those who had taken the rocks.
"Their selfishness has spoiled the experience of other visitors to this important site, some of whom come from overseas specially to visit it," he said.
'Historical importance'
"I expect members of the public to respect this reserve and other aspects of our natural heritage and hope that anyone with information on this theft will contact the PSNI or Northern Ireland Environment Agency (NIEA)."
Mr Durkan said the reserve was a place of "pilgrimage" for geologists and an important educational site for geology students because of its "historical importance".
"The damage caused by the thieves will mean that visitors to the reserve will be hard-pressed to locate the fossils which made it famous," he said.
"The professional geological community will be outraged at what has happened here."
The minister said the reasons behind the theft were "unclear" but said the rock samples may have been taken for research purposes, for commercial sale or for a private collection.
"The fossils themselves tend to be of poor quality and are of little commercial value. Their importance lies in the false impression that they gave of fossils in igneous rock," Mr Durkan said.
He said his department would be asking police to investigate the theft.