Dunanney Centre reopens after petrol bomb attack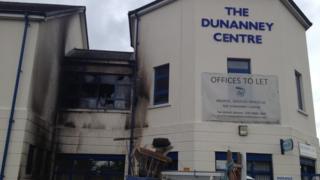 A centre that houses community services in Newtownabbey, County Antrim, has reopened after being "gutted" in a petrol bomb attack.
The Dunanney Centre, in Rathcoole estate, was badly damaged in the overnight attack on Saturday.
Its chair, Pat Hutchinson, said that the centre was a "lifeline to the community" with about 200 people using its services every day.
Its services include the Citizens Advice Bureau and Sure Start.
The attack was reported to the emergency services at about 00:10 BST on Saturday and firefighters were called to deal with the blaze.
The police said a number of stones were also thrown at the building, but no-one was injured.
Only one part of the building has been able to reopen, with much of it still severely damaged.
It was the second arson attack on it in the last three months.
Ms Hutchinson said that the centre had never come under any type of similar attack before this year.
"We've never, ever had any bother," she said. "We had the odd golf ball through the window that a child had thrown, but this seems to be very much an orchestrated attack on the centre.
"I would just say to them, please leave us alone and let us get on to do the good work that we do in this centre."