Londonderry security alert: Bomb found in Enagh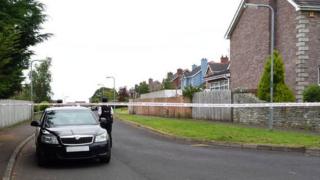 A bomb has been found behind the back wheel of a car in Londonderry.
A number of homes in Enagh were evacuated following the discovery of the device.
It was found in the Westlake housing development at about 07:00 BST on Tuesday morning.
Army bomb experts carried out a controlled explosion and have removed the device for examination. Police said they were keeping an open mind as to the motive for the attack.
Chief Inspector John Burrows said: "Clearly the family are in shock, they're traumatised. The rest of the community, including some very vulnerable people who were disrupted this morning, are traumatised and fearful.
"The device was viable, the Army technical officer confirmed it could have functioned and any explosive device like that is capable of causing serious injury."
Police have appealed for information.