Nigerian money scam: B&B owners warned over booking scam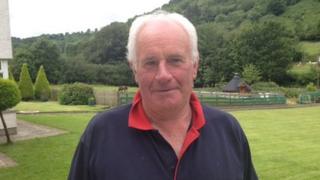 Tourist accommodation owners in Northern Ireland are being targeted in what they believe is an international scam stretching from south Down to Nigeria in west Africa.
Self-catering accommodation and bed and breakfast owners are receiving emails from a couple making bogus bookings.
They are asked to accept a cheque or money order for more than the total cost of the booking.
They are then asked to refund the difference from their own bank account.
This is sometimes known as "an overpayment scam".
The cheque sent to the B&B owner bounces after the unsuspecting victim has sent the refund difference abroad, so that they end up out of pocket.
The chairman of the organisation representing B&Bs in Northern Ireland, James McHenry, warned owners not to fall for it.
"I would urge people in the B&B sector to be cautious of these emails and please do not give any bank details for payment," he said.
The email sender uses the names "Mr and Mrs Anderson" and gives a contact address in Cambridge. They also supply what looks like a UK telephone number.
When the BBC rang the number provided, it linked to an answering service in Nigeria, west Africa.
Similar emails to the ones sent to accommodation providers in Northern Ireland have also been sent to guesthouse owners in France.
Retired private investigator Ian Withers said unsuspecting people could be taken in by bogus emails.
"Plain, ordinary people running an honest business would not necessarily think potential clients are fraudsters. But the truth is, many can be," he said.
"They are very plausible conmen and it's very easy to fall for it. In my last few years here as a private investigator in Northern Ireland, we have had any number of people who have been conned, not necessarily with bed and breakfasts, but with many other things.
"There are many other variants of the scam including dating agencies - where money is forwarded by the victim thinking she is helping out a problem that the online lover has fallen into - again using what appears to be UK mobile numbers."
Mr McHenry said members who received the email had been in touch with him seeking advice.
"I would be worried that there would be people in Northern Ireland or in Ireland who would get emails like that who would pursue the issue and maybe disclose their bank details as a method of payment. These emails could cost you a lot of money if you pursued the issue," he said.
Mr McHenry has personal experience of the bogus emails. His wife, Ann ,who runs a B&B in Glenariff, County Antrim, received one.
"I got an email from Mr Anderson wanting to book in from 20 September to 27 September.
"I emailed him back and told him I had no availability for that week. So he emailed me back thanking me and asked if I could give him other dates in September. I knew it was not right, any way. The whole nature of the email does not look right," she said.
A self-catering accommodation provider in south Down also received an identical email. After entering into correspondence, the following email, outlining how Mr and Mrs Anderson intended to pay for the accommodation, arrived.
It said: "The payment would be made to you by our company associate who has promised to pay for our holiday expenses, which include the rental fee and our flight and BTA (Basic Travel Allowance) fee and I have informed them of your accommodation. They have made us understand that the payment will be made to you with a French cheque which will take a few days to clear in your place.
"As soon as you have received the French cheque, you would have it deposited into your account for clearance, you would deduct the full payment for the rental fee and I will tell you how to send our trip expenses which include our flight ticket fee to my travelling agent, after the French cheque has been cleared in your account."