Ekso bionic suit: Robotic exoskeleton helps people to walk again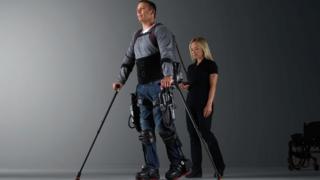 It looks like something straight out of the pages of a comic book or sci-fi TV show and sounds just as strange.
A robotic exoskeleton that helps paralysed people to walk again.
But, this bionic suit is real and has already helped people across the world to take their first steps in years.
Now, one of its main developers, from Northern Ireland, has asked the Stormont executive for investment so that local people suffering from paralysis can access it.
Patrick McStravick, from Bangor, County Down, has brought the suit to Northern Ireland, after a visit to the Republic of Ireland, in order to show how the exoskeleton can benefit those who cannot walk.
On Wednesday, he will meet Northern Ireland Health Minister Edwin Poots before giving a demonstration of the suit, developed by Californian company Ekso Bionics, at the University of Ulster.
"The main purpose of us being over here right now is to promote the suit in Ireland and get the government to invest in it so that paralysed folks can get on a wellness path," he said.
"It can help ensure that they don't get sick from sitting in a wheelchair all the time."
The bionic suit works through sensors picking up shifts in the user's weight. These activate motors that drive the legs.
Initially, users are accompanied by a therapist who controls movement but, as the individual progresses and becomes stronger, they can take control of their own walking.
Mark Pollock, a paralysed adventurer from Holywood, County Down, said he was in bed for six months after his accident and never thought he would stand again.
"I certainly never thought I'd walk," he said. "But I get into the device, I lean forward, I press a button and I can stand. I walk in the gym with my trainer.
"I just broke 3,000 steps in one hour.
"Those first few steps are hopefully going to be some of the first few steps for people right around the world who are in chairs.
"I have my normal life in my wheelchair and this is my research life to try and find a cure."
However, the major obstacle in accessing the bionic suit is cost.
One unit costs between 100,000 euro (£79,000) and 150,000 euro (£118,000).
The nearest suit for those in Ireland is in Cambridge.
However, Patrick McStravick has said he is hoping that government in the Republic of Ireland and Northern Ireland will see the benefit of bringing the device to the island.
"Cost is a problem," he said. "But in a paralysed space, where several people might be using the suit, each person could use it three times a week for an hour at a time.
"Instead of the government spending all their money on pain medication or urinary tract infections or bowel movements, they're actually getting folks on a wellness program.
"Just by standing and walking, they are getting the benefits of staying well."
Mr McStravick added that the more investment that is made in the suits, then the "more the price goes down" and the technology can continue to improve.
"This is like the first ever cell phone, that big clunky brick we used to carry around," he said. "We're on the very edge of a new market here, and it's just going to get better all the time."