Petrol bomb thrown at community organisation in east Belfast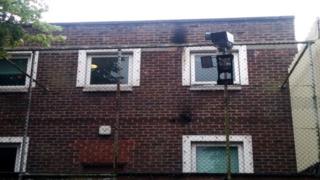 A petrol bomb has been thrown at a community organisation's premises in east Belfast as part of a number of attacks on property in the area.
The petrol bomb hit the shutter of the community organisation on Isthmus Street at about 19:00 BST on Tuesday.
A paint bomb, stones and bottles were also thrown at Willowfield Police Station, the second time it has been attacked in three days.
St Anthony's Church, on the Woodstock Road, was also paint bombed overnight.
The police said it was investigating the possibility that all the incidents are linked.
A spokesperson said: "These incidents occurred within a relatively confined area and there may have been passers-by or residents who may have witnessed suspicious behaviour and we would be very keen to hear from them.
"There have previously been reports of anti-social behaviour in these areas and police have been working with other agencies, over the course of the last number of months to tackle this behaviour.
"We will be increasing police patrols within the area in the coming days."